AAA High School Fall Spirit Week Monday, 10/23 - Pajama Day Tuesday, 10/24 - Twin Tuesday: twin with a friend or teacher Wednesday, 10/25 - Movie Cliche: dress in the style of your favorite movie cliche/trope (examples: "the jock", or "the girl next door") Thursday, 10/26 - Grades Decade Wars: each grade dresses in the style of their assigned decade. Teachers: dress in the style of the grade of your advisory class - 7th/8th: 80's - 9th/10th: 90's - 11th/12th: 00's Friday, 10/27 - Costume day and contest! Dress up in the costume of your choice. Please observe the restrictions (no gore, no masks, no blood, no weapons). Make sure you're still adhering to the dress code.
Join us on October 30th for "Scholarship Search 101" in the High School library from 6 - 7 pm. The University of Arkansas will present! Parents and students are welcome.
The University of Central Arkansas is coming to Arkansas Arts Academy on November 1st to offer a presentation during 10th - 12th grade advisory (11:30 am - 12:20 pm). Recently, UCA announced a campaign called "The UCA Commitment" which "is a groundbreaking, debt-free pathway for tuition and fees for incoming Arkansas freshmen with an annual household income of $100,000 or less." Learn more at
https://uca.edu/commitment/
.
AMDA (The American Musical and Dramatic Academy) is coming to Arkansas Arts Academy on October 30th to host admission auditions for juniors and seniors! They will also be teaching masterclasses in Musical Theater and Acting 1 and hosting a table for questions during 10th-12th lunch on October 30th. To sign up for an admissions audition, please use the following link:
https://tinyurl.com/AMDAauditions
. Juniors and seniors are encouraged to audition! For questions, please reach out to Ms. McDowell at
mmcdowell@artsk12.org
Savannah College of Art and Design is coming to AAA on October 31st! They will offer a presentation providing information on their college and the admissions process, as well as portfolio reviews. Students, to sign up for the presentation, which will take place during 10th-12th grade advisory (11:30-12:20), please use the following link:
https://tinyurl.com/SCADpresentation
. To sign up for a portfolio review, which will take place from 1 - 4 pm, please use the following link:
https://tinyurl.com/SCADportfolioreview
. Students are encouraged to sign up quickly, as there are a limited number of spots available. SCAD has also asked that students prepare a fully completed portfolio for the review. Both the presentation and portfolio reviews are available to seniors and juniors, although preference will be given to seniors for portfolio reviews if spots fill up. If you have any questions, please reach out to Ms. McDowell at
mmcdowell@artsk12.org
.
Red Ribbon Week is NEXT WEEK! Join the elementary celebrate being drug and bully-free by dressing up for our theme days.
In coordination of Red Ribbon Week, AAA school board verified and reapproved district policy on ZERO tolerance for any drugs OR weapons on AAA campus or property. AAA is a Drug and Weapon FREE zone. JUST SAY NO! Keep drugs and weapons AWAY from AAA.
Attention K12 South parents - AAA is changing stop location from Elm Springs Walmart to Mercy Hospital (using the same exit) starting Monday morning October 23, 2023 . Exact location shown. Increased traffic and safety concerns have created the need for change. Thanks to Walmart for their continued partnership and thanks to Mercy for welcoming AAA. Questions reach out to
Nharral@artsk12.org
@artsk12 in collaboration with @roosworld is PROUD to announce the opening of an AFTER SCHOOL program at AAA Elementary School beginning October 23, 2024. For questions and registration contact: (479) 502-2541 or
office@RoosWorld.com
We are so excited for this collaboration.
Calling all 7-12 grade Archers! Contact Coach Stout or Coach Moseley with any questions.
AAA Elementary teachers spent their fall break creating and exploring with the amazing Artful Learning trainers. They completed an original creation with fused glass in preparation for their Artful Learning units they are creating for students!
NWA Samhati invites you to celebrate Durga Puja at Arkansas Arts Academy High School on October 20th and 21st. An annual festival in India, Durga Puja is now in its 13th year in NW Arkansas through NWA Samhati and AAA is proud to be a partnering organization for the 2023 celebration. The event begins on Friday at 5:30 pm with Sasti and Saptami Puja followed by dinner and cultural programs. The events continue on Saturday the 21st beginning at 9:00 am and a drawing contest sponsored by Hugs From Friends at 11 am. Cultural programs at 5:00 pm and concluding with a dinner and music by Trissha Chatterjee live at Arkansas Arts Academy Saterday, October 21st 8:30 pm For tickets to the event please visit
https://www.tickettailor.com/events/samhatibentonvilleinc/1004155
To learn more about the cultural celebration of Durga Puja visit
https://youtu.be/Az8SGiqk9-o
Congratulations to our teacher of the month, Mrs. Monica Harding in 4th grade. One colleague that nominated her said, "She brings her all everyday for both her coworkers and her students. She is kind and considerate."
Join us for Game Academy during intersession week next week, Oct 16-20. See details on the flyer for info on how to sign up. For grades 2-6. Located at the elementary.
EVERYONE needs to come out for our Fall Festival!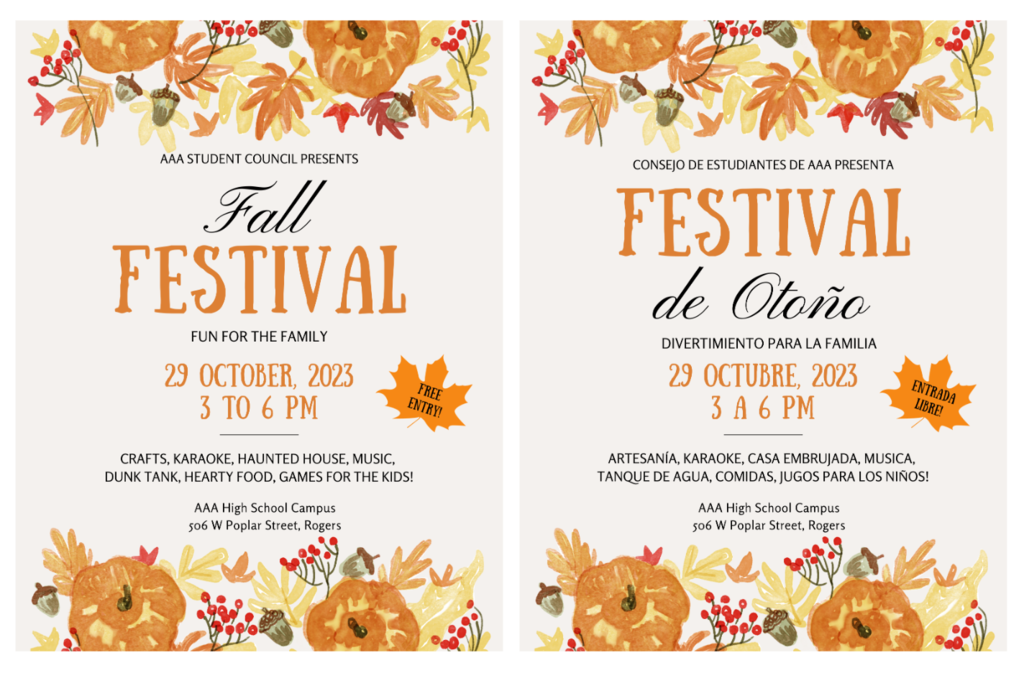 Arkansas Arts Academy High School September Students Of The Month!