Please join the AAA upper campus piano students this weekend for an Afternoon of Joy. The event is free and open to the public, with a reception to follow.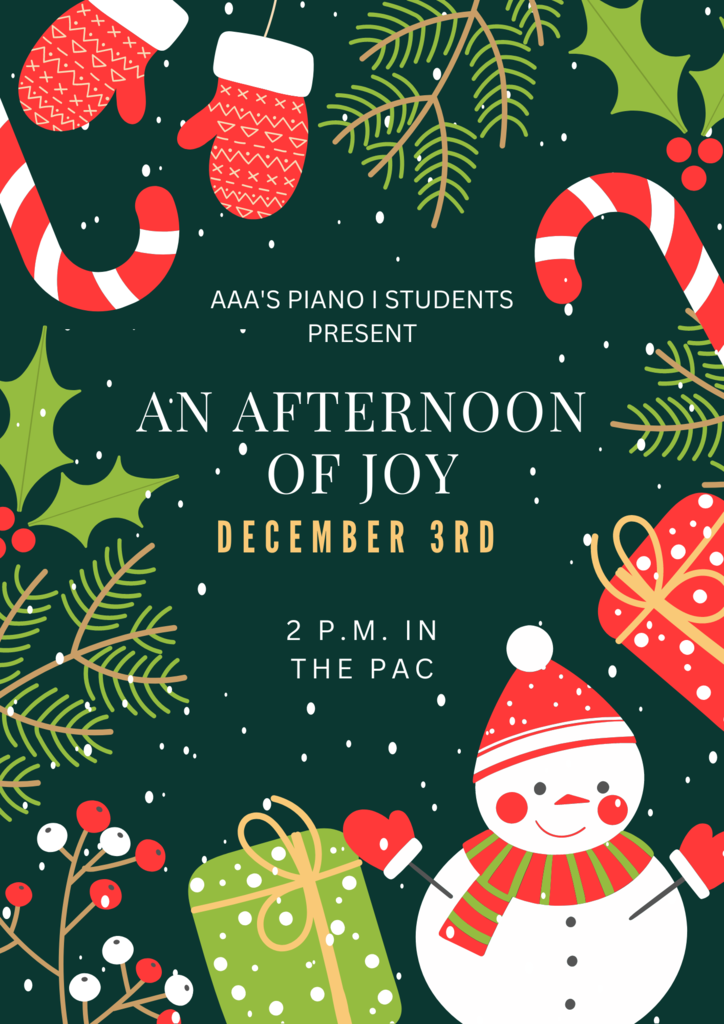 The 2022 AAA Winter Showcase is a 3-day event. The Winter Showcase Opens with a free event on Friday, December 9th at 6 pm and includes performance from the EMS Choir, Dance and Theater Departments. Tickets for Performances on December 12th and 13th are available for cash at the door or online through the AAA Eventbrite Page.
https://www.eventbrite.com/o/arkansas-arts-academy-43331642003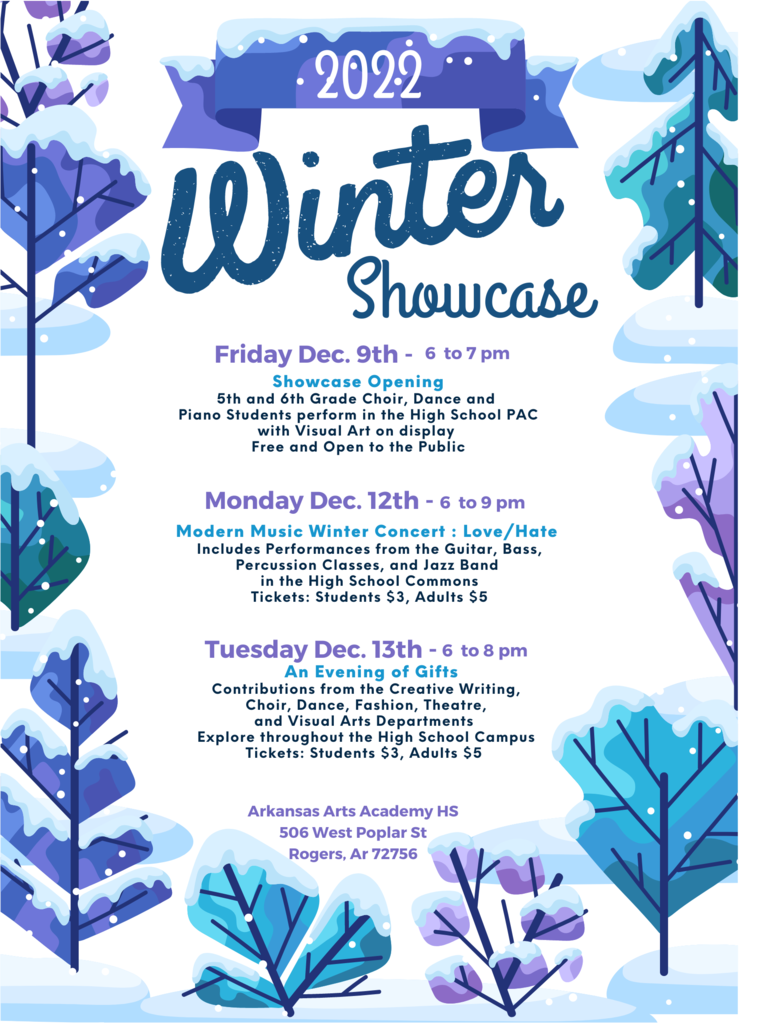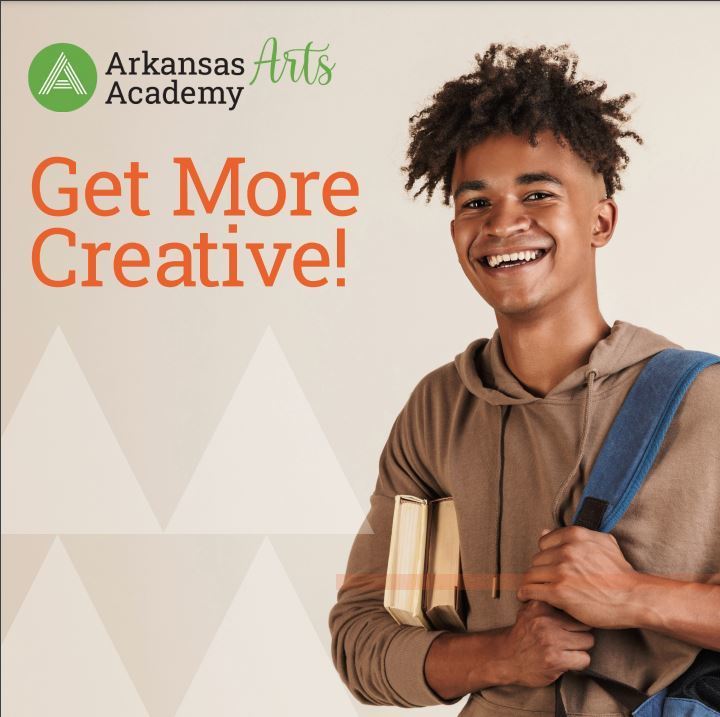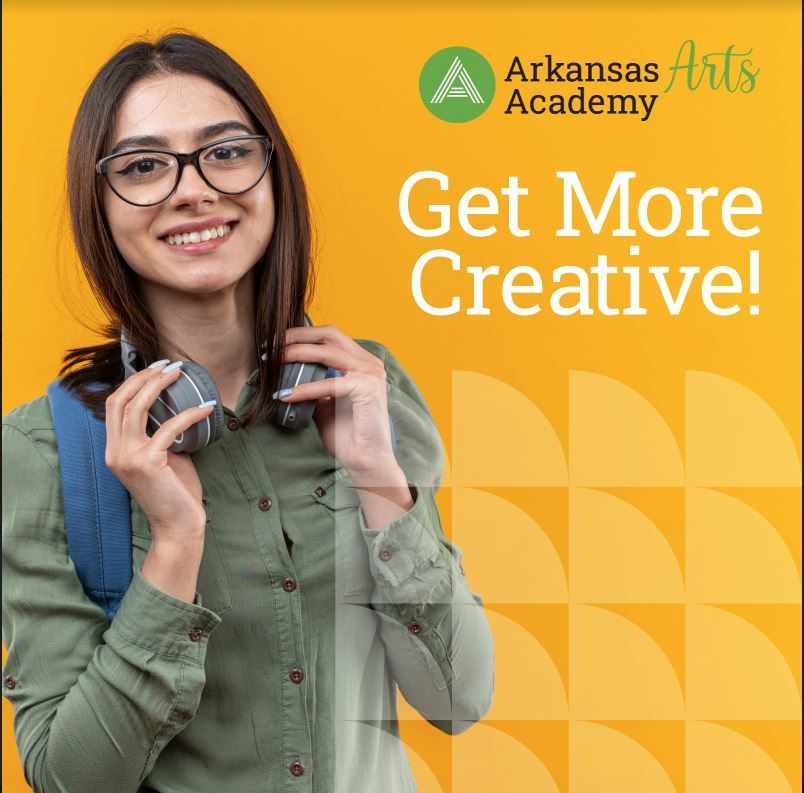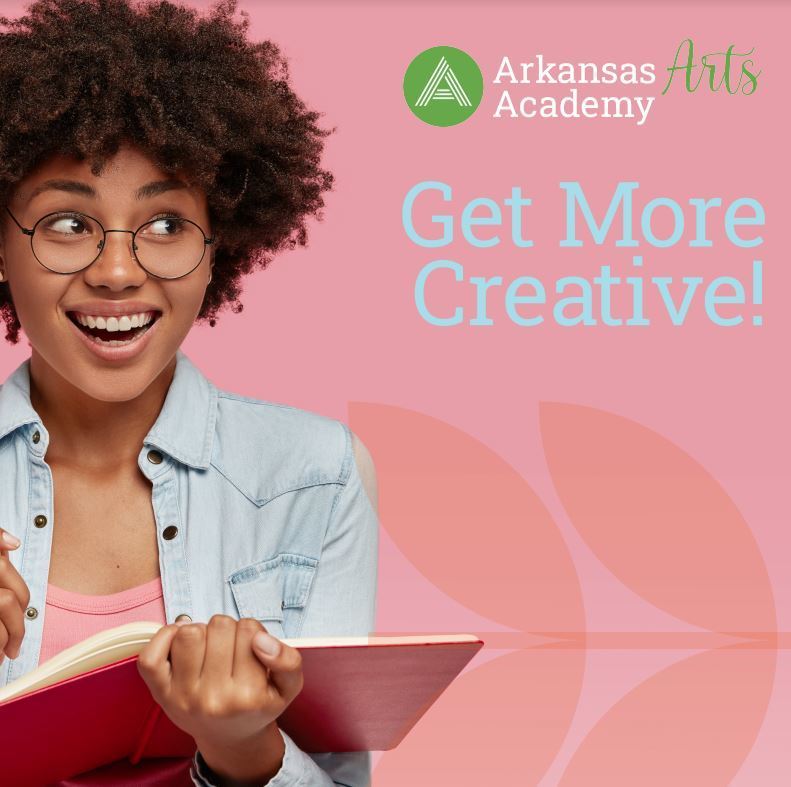 The counselors will host our Family and Community Engagement book talk on "No-Drama Discipline", from 10am-12pm on Saturday at the high school. Please join us as we share thoughts on Dr. Daniel Siegel's whole-brain strategies for parents and anyone working with children. Snacks will be provided. We look forward to seeing you there! Contact Mrs. Shover for details.
ashover@artsk12.org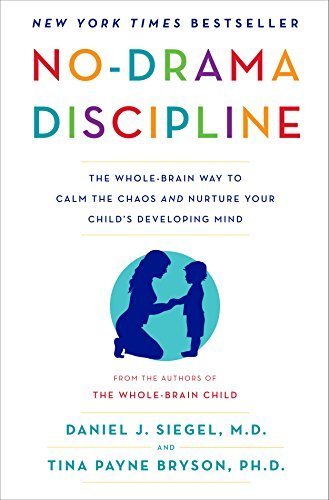 Both AAA campuses will host a Literacy Night, from 5:30 to 6:30 p.m. on Thursday, December 1. Come browse literacy and arts integration projects in each building and pick up developmental reading resources. At the K6 campus, there will be a Once Upon a Time book booth (a selection of books at low prices and possible Christmas gift ideas), as well as a representative with the Rogers Public Library.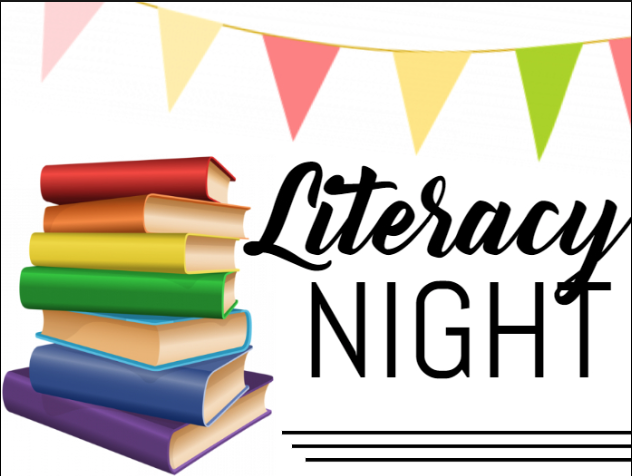 Nov. 28th-Dec. 12th: HS Culinary Holiday Goodie Boxes for Sale Nov. 29th: 6pm: K-12th Arts Parent Guild Meeting @ HS Campus Commons Dec. 2nd: 6pm: K6 PTA Meeting @ K6 Campus PTA Room in Gym Dec. 3rd: 1pm-4pm: HS Art Bazaar @ HS Campus Dec. 3rd: 10am-12pm: Family Engagement Coffee and "No Drama Discipline" Book Discussion @ HS Campus Library Dec. 3rd: 2pm-4pm: High School Holiday Piano Recital Dec. 5th-16th: K6 Campus Canned Food Drive Dec. 7th: HS Campus Retake Picture Day Dec. 8th: K6 Campus Retake Picture Day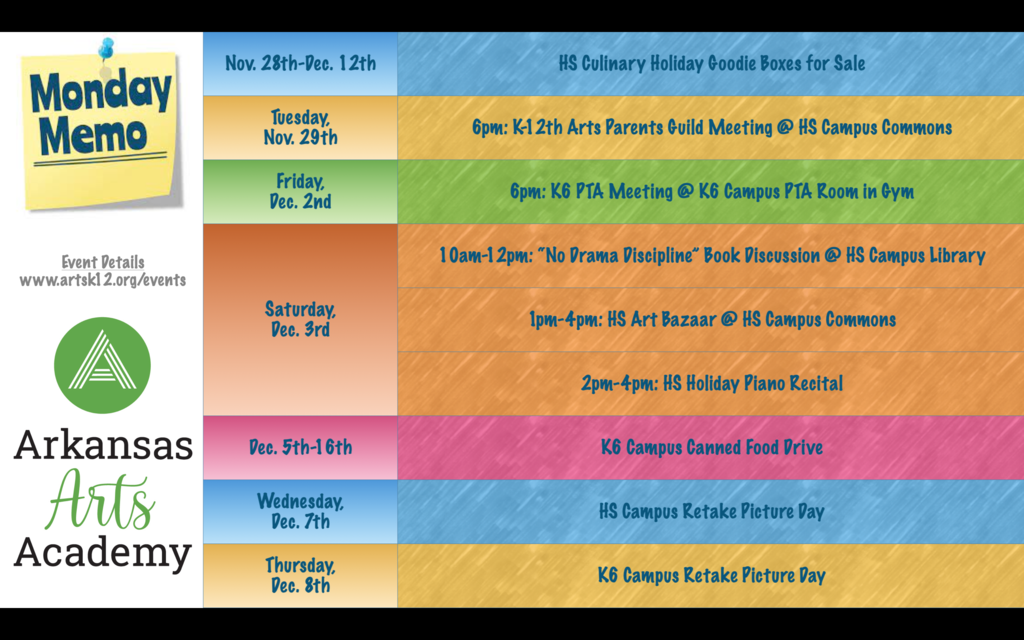 Thanksgiving Resources. (see attached images)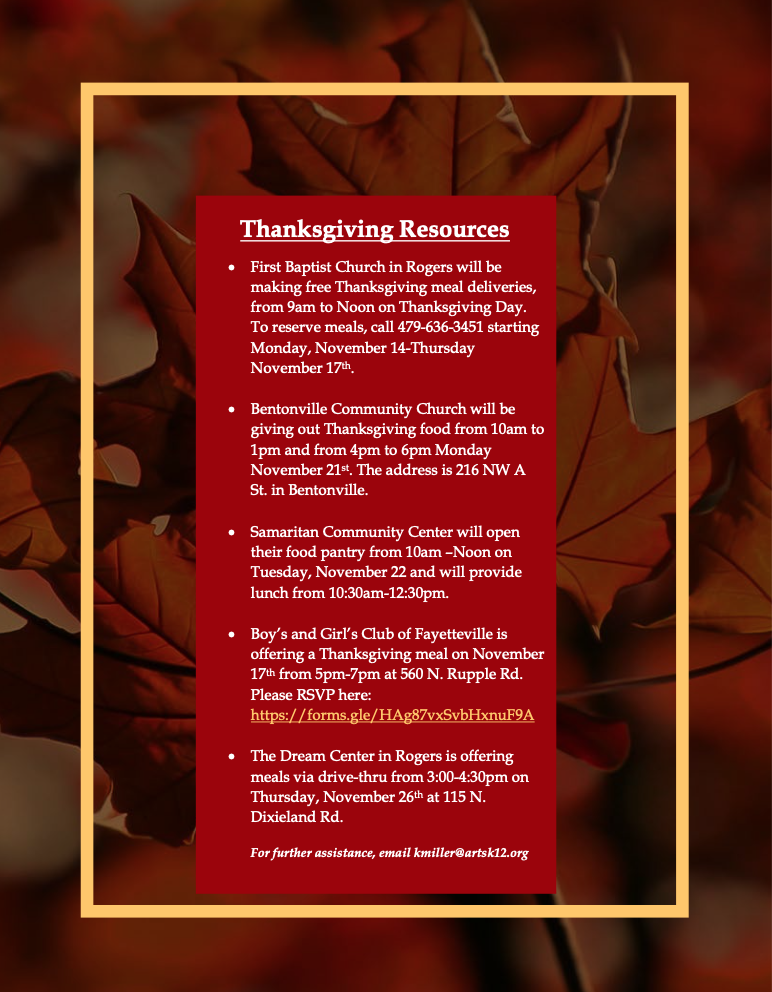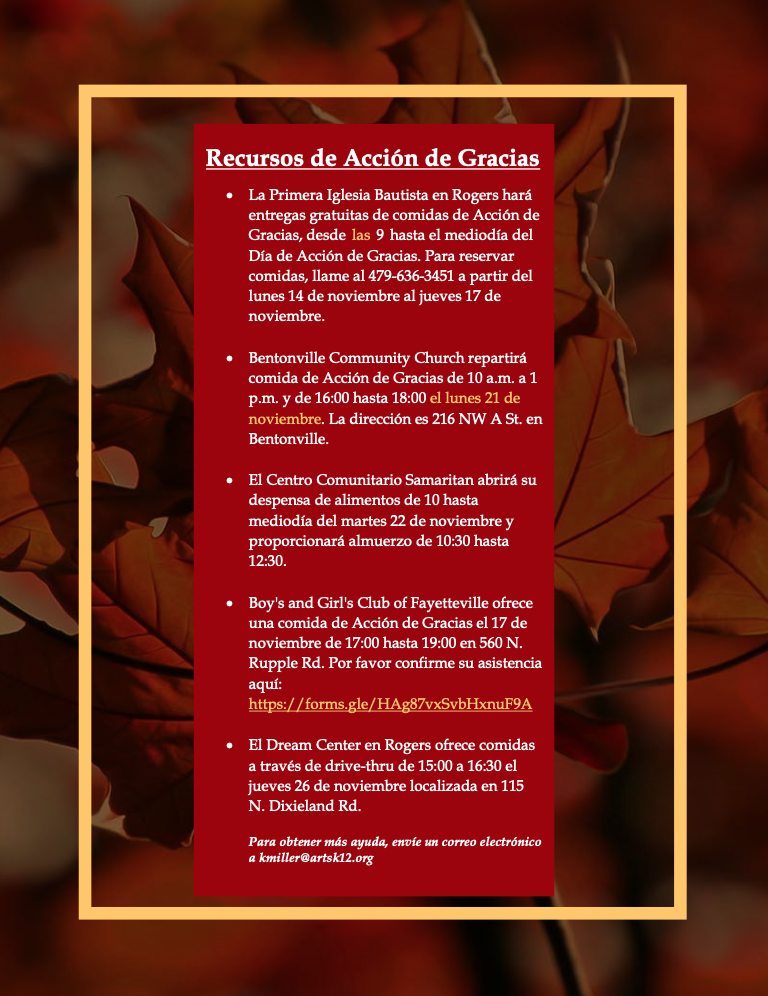 Save the Date!! Saturday December 3rd! The Annual Art Bazaar is a great place to buy unique holiday gifts made by AAA student artists! This is a come & go art market that gives the community the chance to support local artists, boost young students' confidence and walk away with one-of-a-kind gifts for your loved ones or yourself !!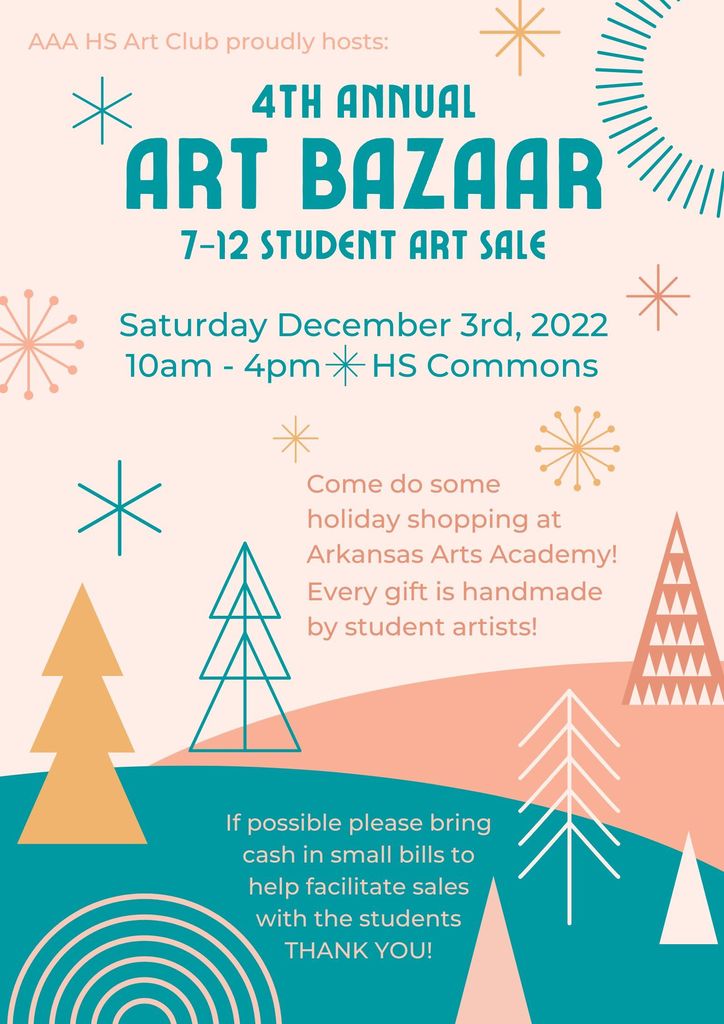 The Nov. 14th Literacy Night at both campuses is cancelled due to inclement weather. Rescheduled date TBD.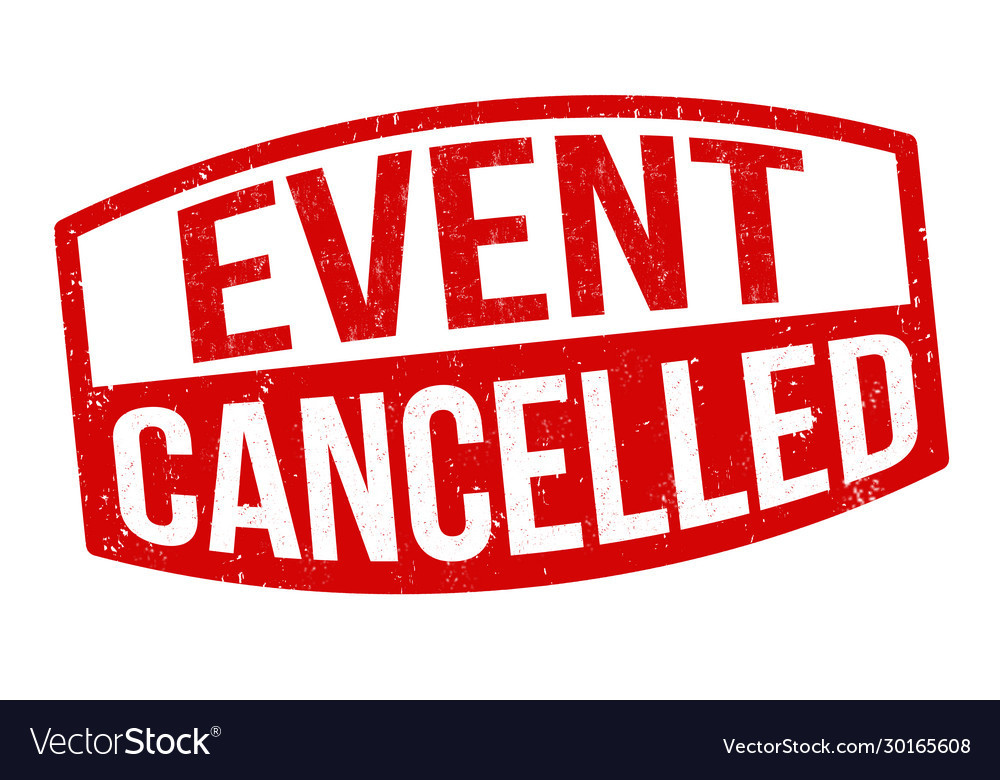 Nov. 14th Monday Memo! Cancelled: Nov. 14th: 5:30pm: Family Engagement Night: Literacy Night is cancelled Nov. 15th K6 Quarter 1 Report Cards going home in Tuesday Folders Nov. 15th-17th: 6pm and 7:15pm: HS Acting Classes 1 and 2 Double Feature @ HS Campus Black Box Theatre Nov. 17th: 8:30am-12pm: Optional Senior Portraits by Wingard @ HS Campus PAC Nov. 17th: 6pm: HS Orchestra Concert @ HS Campus PAC Nov. 18th: 8am: K6 Rise & Shine Assembly Nov. 18th: 9am-2pm: K-4th Hoedown Nov. 18th: 6pm: K6 Bingo Night Nov. 21st-25th: No School - Thanksgiving Break Nov. 22nd: 12pm-6pm: Culinary Everything Pumpkin Pick Up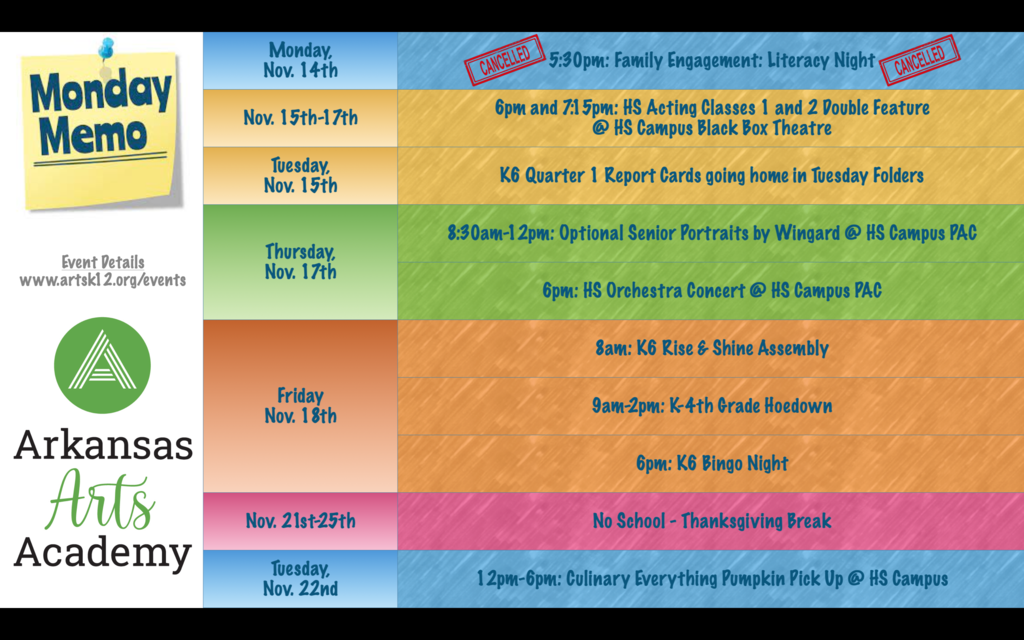 Thanksgiving Community Resources: First Baptist Church Rogers will be making free Thanksgiving meal deliveries, between 9 a.m. and noon on Thanksgiving Day. To reserve meals, call 479- 636-3451, from 9-4 p.m., starting Monday, November 14 - Thursday, November 17. The meal will consist of ham, green beans, potatoes and gravy, dressing, a roll, and dessert. The Bentonville Community Church will be open from 10 a.m. to 1 p.m. and from 4 p.m. to 6 p.m. Monday, November 21. They will have some turkey, Thanksgiving food, and pantry items. Bentonville Community Church is located at 216 NW A St. Bentonville - They share the parking garage with Bentonville Community Church and are located in the garage across from the playground. Samaritan Community Center will open their Food Pantry, from 10 a.m. until noon Tuesday, November 22 and will provide lunch, from 10:30 - 12:30 p.m.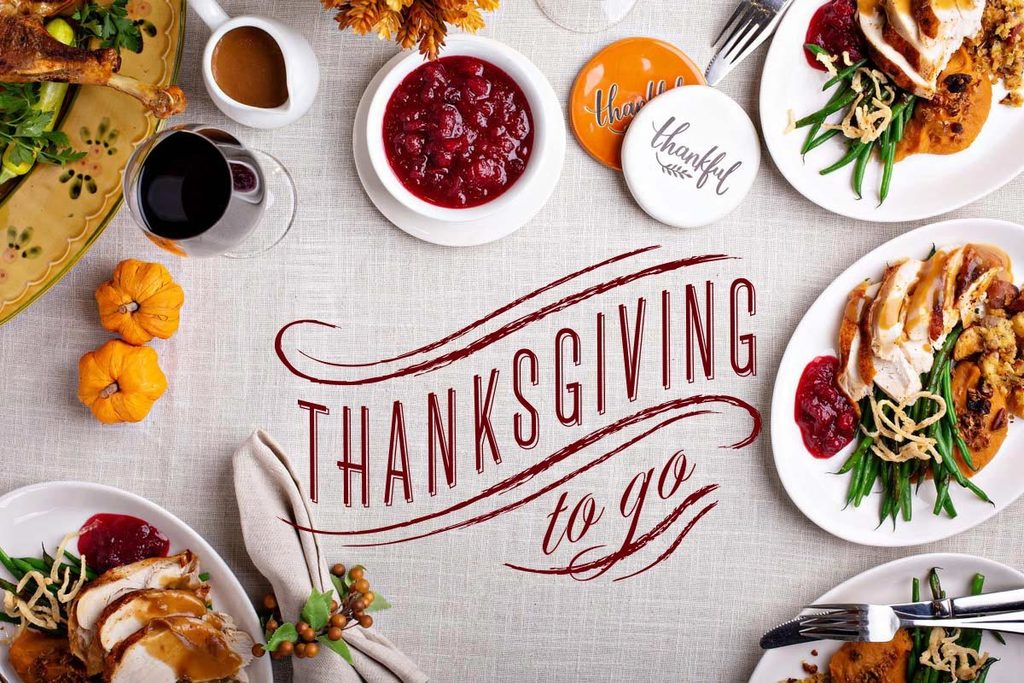 TASC will visit the High School campus tomorrow, Thursday, November 10th! We encourage students to drop by, say hello, and learn more about all the wonderful programs TASC offers our community! You will find the TASC team in the cafeteria during all three lunches.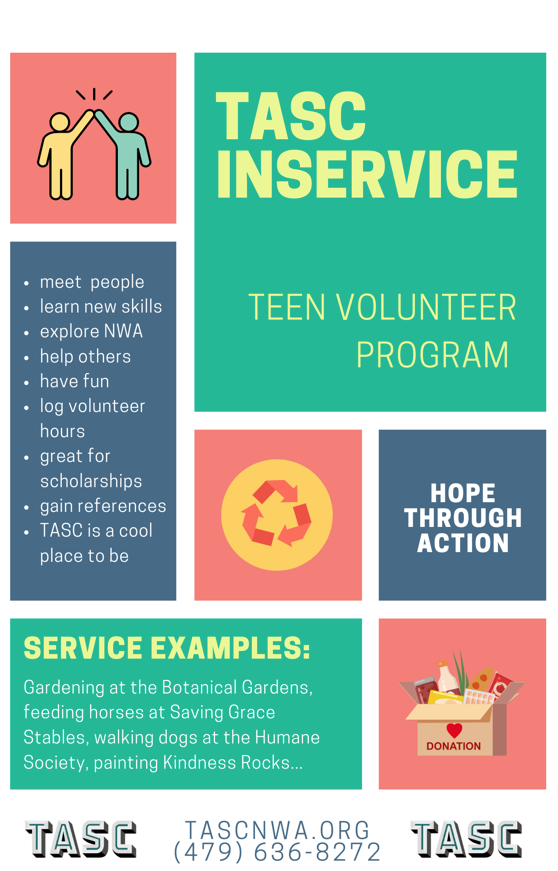 The Primary Goal of the parent guild is to provide fundraising and volunteer support to the visual and performing arts staff and students of Arkansas Arts Academy. Some activities include organizing parent volunteers for productions, managing the boutique, designing and organizing cast shirts, seeking sponsorships, and organizing cast parties. In addition, parent guild funds support the performing arts field trips, fund guest teaching artists, boutique expenses, and other incidentals to support productions and arts events. On Tuesday, November 29th, we will discuss upcoming events and plan for parent volunteers to support these events.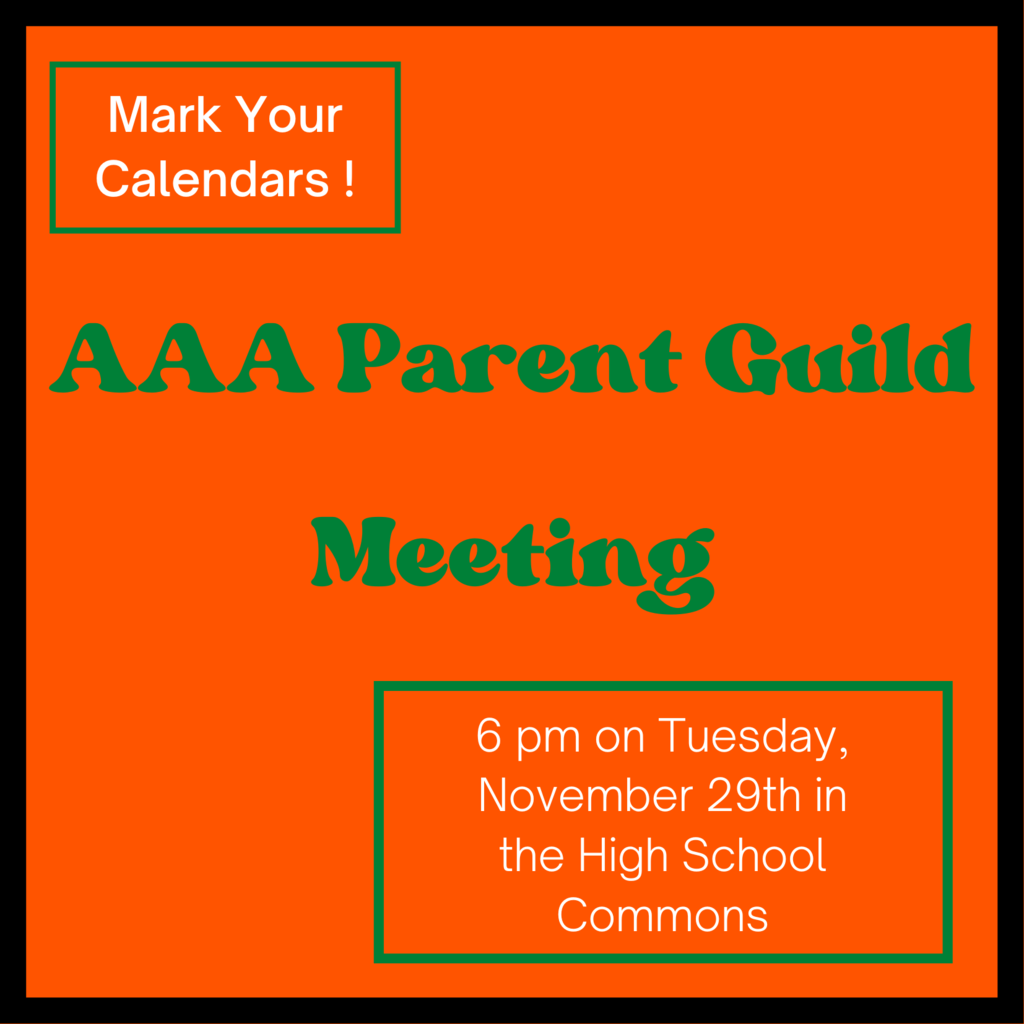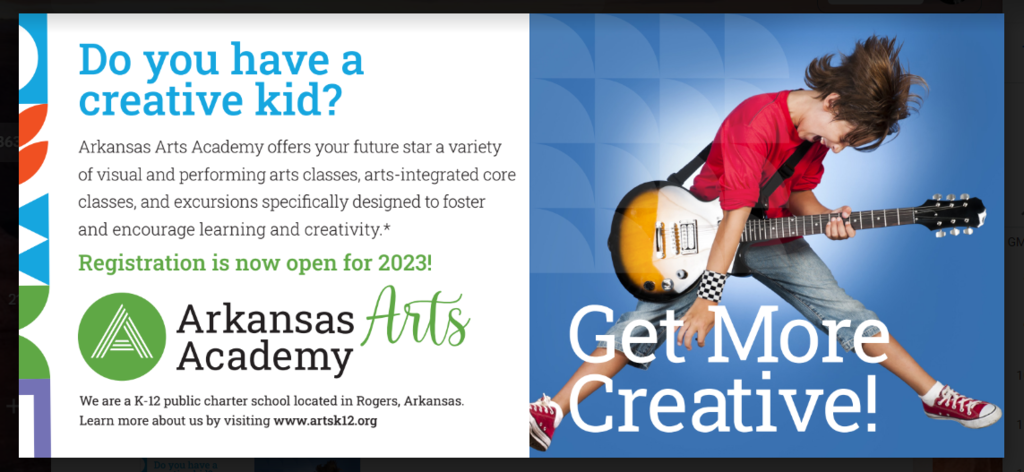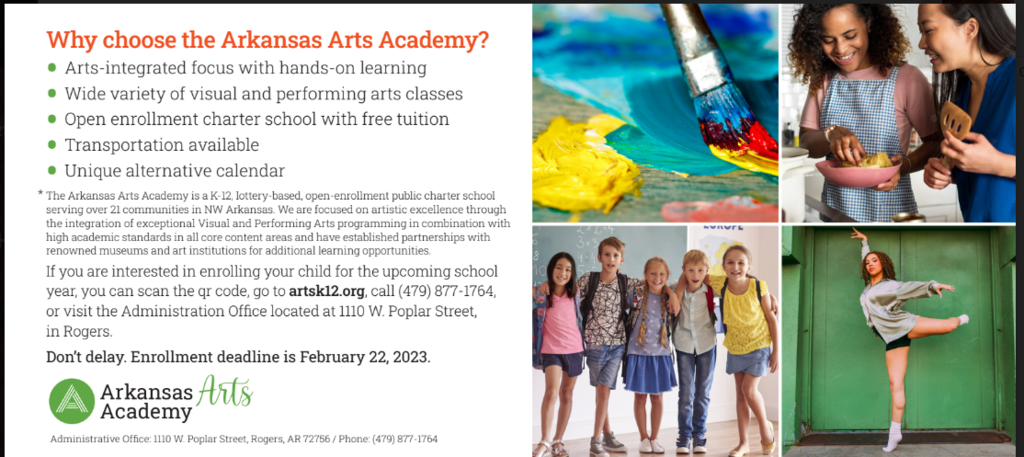 Nov. 7th Monday Memo! Nov. 7th-14th: K6 Book Fair @ K6 Library Nov. 7th-10th: HS Culinary Everything Pumpkin Sales Nov. 8th: All Day: Scooter's Coffee on Walnut St. Spirit Night Nov. 8th: 6:30pm: School Board Meeting @ HS Campus Commons Nov. 10th: Art on the Bricks-Art by Veterans @ Downtown Rogers Nov. 10th: Veterans Day Assembly @ HS Campus Nov. 11th: No School - Veterans Day Nov. 11th: 5pm-9pm: Adult Book Fair Fundraiser at Rogers Experimental House Nov. 14th: 5:30pm: Family Engagement Night: Literacy Night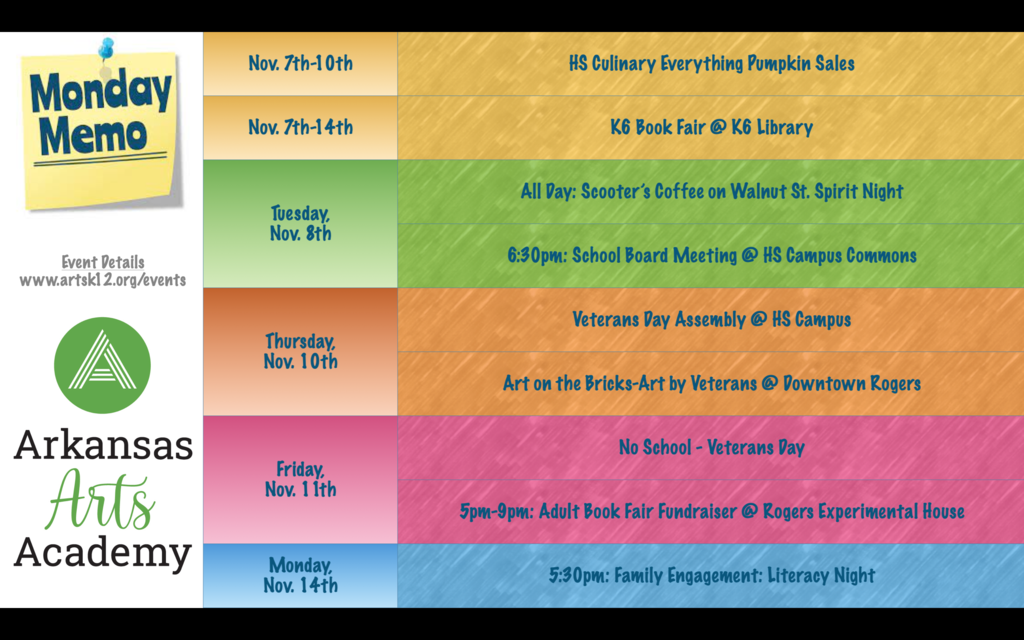 Please join AAA Orchestra and Symphony Students under the direction of Garrett Jones on Thursday, November 17th, in the Arkansas Arts Academy Performing Arts Center.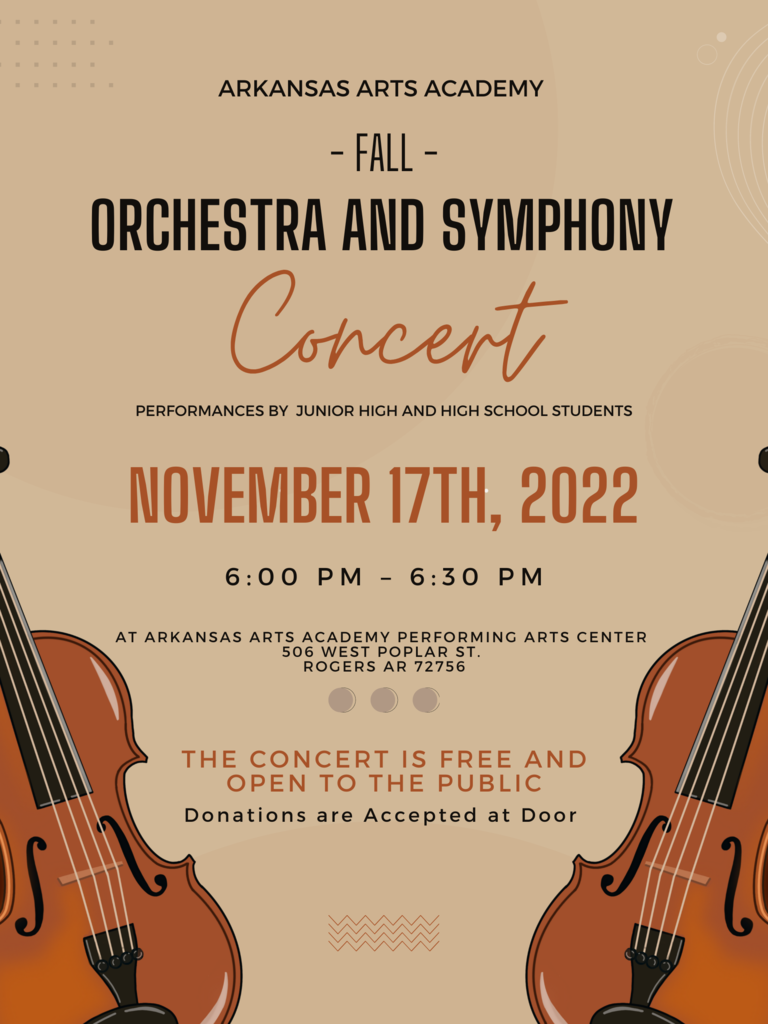 Save the Dates! Both AAA Campuses will host a Literacy Night for the November Family Engagement Event. Come browse literacy and arts integration projects from 5:30-6:30pm and learn tips on helping your child with reading skills. The K6 Book Fair will be open in the K6 library! Please join us for our Saturday, December 3rd Family Engagement Event from 10am-12pm at the HS Campus. We will discuss the book "No Drama Discipline" by Dr. Daniel Siegel. Books are available for check out with the school counselors.
ashover@artsk12.org
,
kmiller@artsk12.org
,
afoster@artsk12.org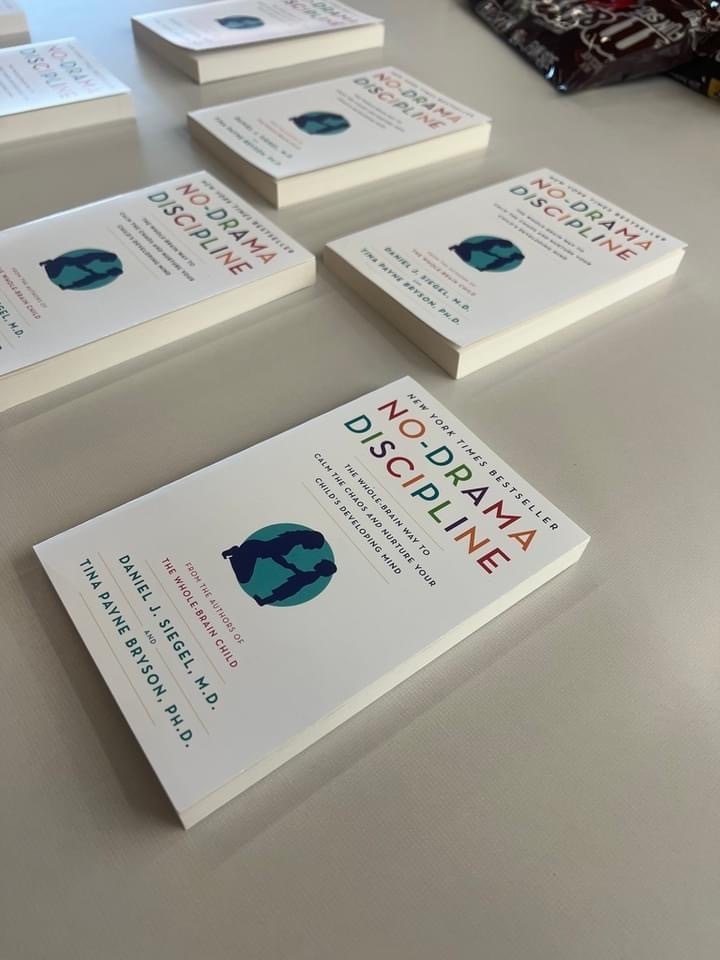 Thank you to everyone that join us at the AAA Night at the Museum! We love seeing our students and families come together at the beautiful Crystal Bridges to discuss learning that happens in and out of the classroom. Mark your calendar for April 13th for the Spring Semester Night at the Museum!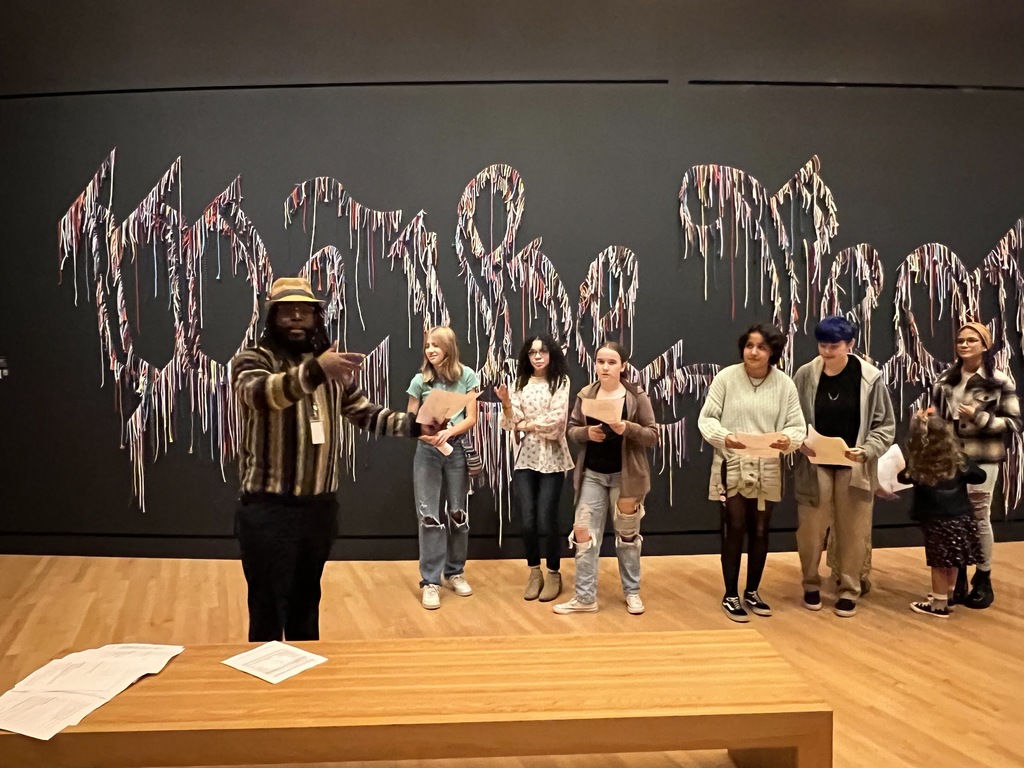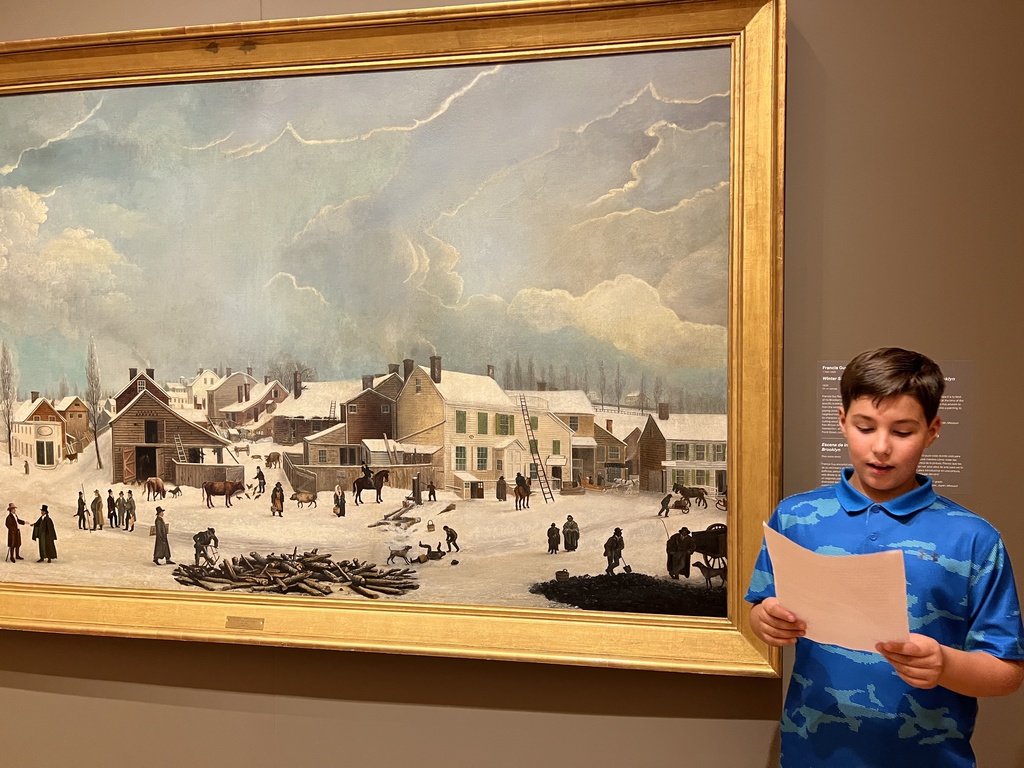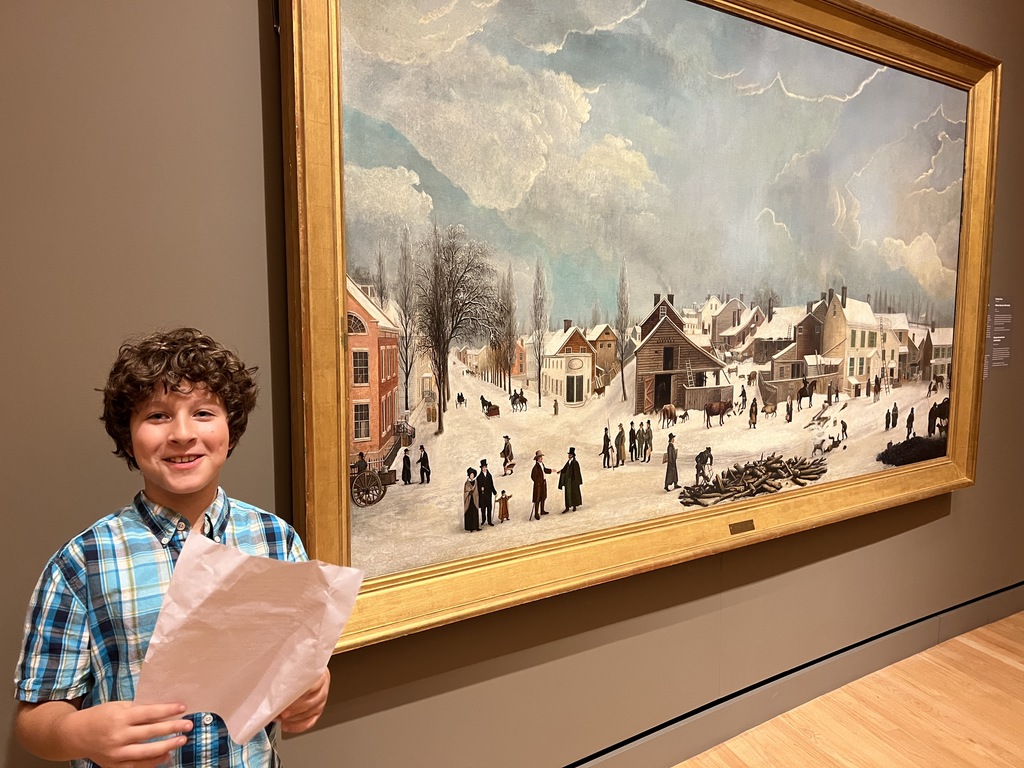 Register NOW for the 2023-2024 school year @artsk12.org. Experience creativity and innovation within a FREE open enrollment K-12 environment with exemplar arts pathways and arts integration in all core content areas. Contact:
https://www.artsk12.org/o/district/page/lottery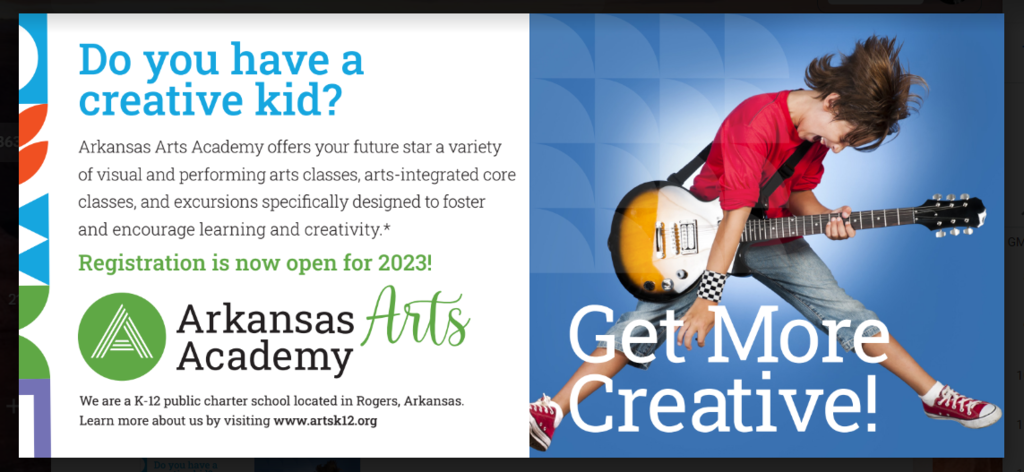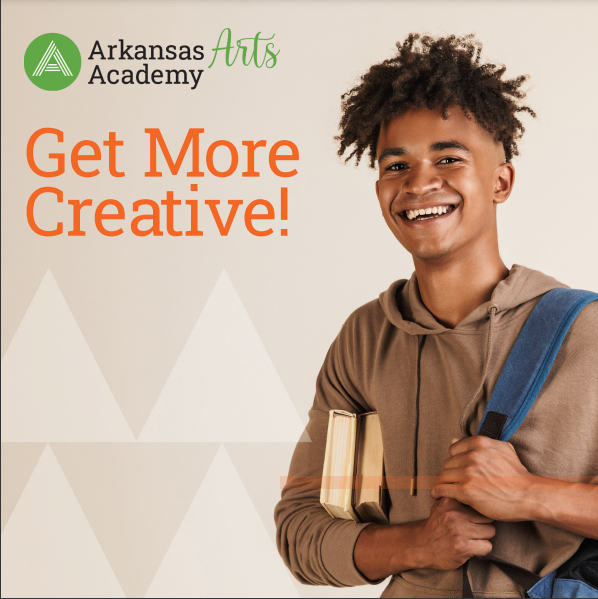 Tonight is AAA NIGHT @ THE MUSEUM from 6-8 pm! Come celebrate our partnership with Crystal Bridges Museum and see our K-12 students make curricular connections in the galleries with works in the Museum's collection. There is NO COST for this event!