Students in Mrs. Valverde's Spanish classes are using artistic talents as well as their linguistic skills. In honor of El Dia de los Muertos the classes have been learning about Mesoamerican cultures from Mexico. Skulls and skeletons are common in contemporary Dia de los Muertos celebrations and they derived from ancient, indigenous cultures that occupied present day Mexico.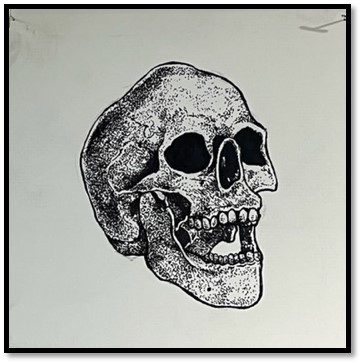 The communities and cultures that made up the Aztec Empire originated many of the customs and traditions of this celebration still honored today; one of which is the iconography of the skull. For the Aztec, the skull is a symbol of life, rather than death. Sacrifices made (true, human sacrifices were performed by many Mesoamerican cultures) were done so to sustain life and those sacrificed were honored for the continuation of life in a tzompantli (tsom-pan-tlee) a Nahuatl word meaning 'skull banner'. Tzompantli were both large racks displaying actual skulls of those sacrificed as well stone carvings of skulls which adorned the sides of ceremonial structures.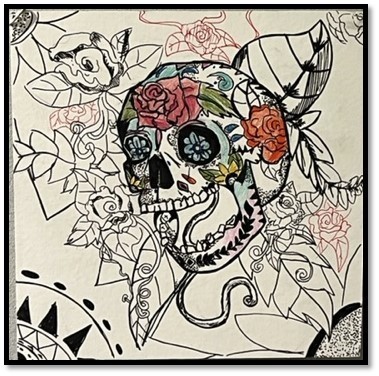 As part of a research and arts integration project Mrs. Valverde had each student creatively represent a two-dimensional human skull on canvas. Now completed, all 90 works were then assembled and displayed in the High School commons to symbolize a Neo-Tzompantli (without the sacrifice step).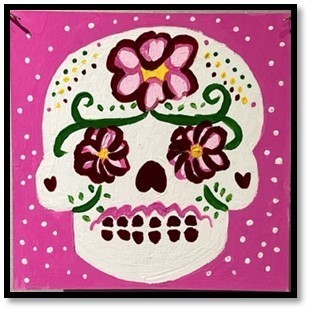 Though the celebratory date for El Dia de los Muertos was earlier this week, the Museum of Native American Museum in Bentonville is hosting a celebration this weekend, Saturday, November 5th from 10 am to 5 pm and our wonderful Spanish teacher, Maria Valverde has had a lot to do with its success. Make plans to attend this event and visit www.monah.com to find out more. Also visit to see Mrs. Valverde's work as an artist. She is part of a current environmental exhibition "Goal 14, Water for Life", in Fayetteville and will travel to Little Rock in December. Visit www.goal14nwa.com to learn more.