Looking for something different to do this Thursday evening? Well, make plans to visit Downtown Rogers and participate in the Art on the Bricks Art Walk! Thursday, April 14th from 4:30-11:00 pm regional artists, craftsmen and musicians will activate downtown Rogers with pop-up events, gallery exhibits and live music. Arkansas Arts Academy will be represented by dance and creative writing students performing Gnossienne: A Meditation on Clouds at Brick & Mortar 120 West Walnut Street, performance at 5:30 and 6:30 pm. Additionally, the work of students in Fashion Design I and II will be on display at the Rogers Experimental House, 121 West Walnut Street.
But wait! That's not all! Be sure to visit the Brick Lane bookshop garden to meet Miss Cricket, a 7 foot tall dinosaur! Constructed by the team who created props and animatronics for the movie Jurassic Park, Miss Cricket will be available for photo ops. Adjacent to Miss Cricket will be the incredible museum staff from The Scott Family Amazeum with a booth where kids can dig for buried archaeological treasures!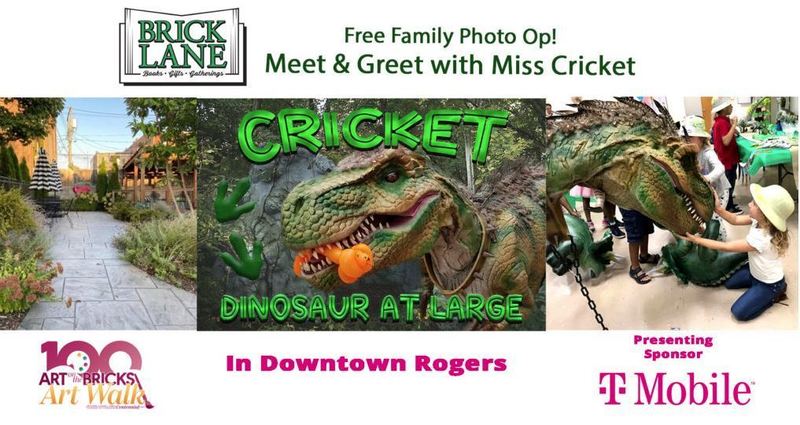 Still not enough? Come in COSPLAY! The Art Walk has become an event where cosplayers gather to show off their talents in costume design and character development. The theme for this month is "Steampunk" so grab your top hat, goggles and create a retrofuturistic steam inspired outfit and join the party!
There will be something for everyone! We look forward to seeing you there.
Art on the Bricks is made possible by the Rogers-Lowell Area Chamber of Commerce. For more information visit https://artonthebricks.com/