The fourth grade classes visited Crystal Bridges Museum of American Art for the My School My Museum program this week. Students experienced the current traveling exhibition entitled In American Waters which features works of art created by artists inspired by American oceans and seafaring history. Museum Educators led in-depth conversations with the classes using four paintings featured in the exhibition. Mrs. Rozanna and Mrs. Adams served as lead teachers assisting connections with recent social studies and language arts lessons to the objects highlighted on the tour.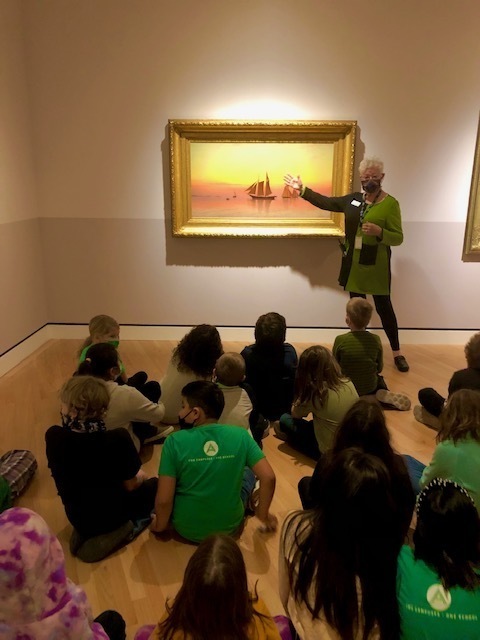 While at a station students not only learned about the historic events surrounding the date and visual theme of the paintings, students also practiced language arts skills, such as using descriptive vocabulary words to communicate what they see within the painting. Adjectives such as turbulent, colorful, soothing, calming, rough, and stormy were words to express the mood and physical features portrayed in the paintings. Additionally, the inclusion of identifying character and setting allowed students to provide a vivid description of each work of art.
After time in the galleries as well as a most delectably scrumptious mid-afternoon meal provided by the world renowned Crystal Bridges Museum (I used my descriptive words Mrs. Rozanna) the students worked on creating poems inspired by the paintings they experienced. Students were introduced to Acrostic, Concrete, Limerick, Haiku, sensory and Someday poems. The results were original creative writings connecting language arts outcomes with beautiful, American historic works of art.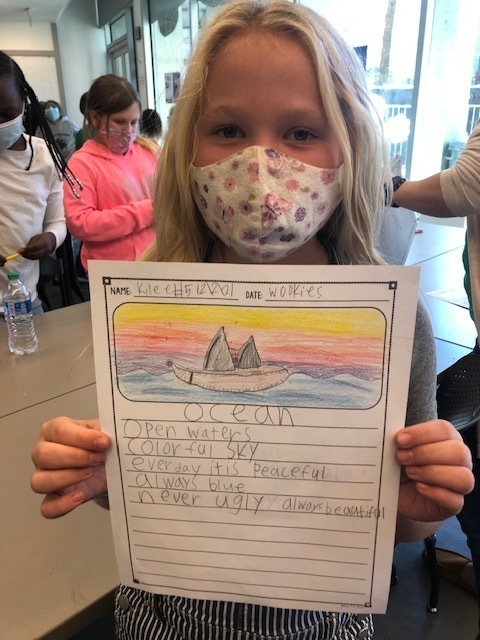 Thank you Crystal Bridges for this wonderful educational experience and opportunity! We look forward to our spring visits!
To learn more about the exhibition In American Waters at Crystal Bridges visit https://crystalbridges.org/calendar/in-american-waters-2/