The My School, My Museum Program is back on the campus of Crystal Bridges Museum after two years of virtual based instruction due to COVID. The My School, My Museum (MSMM) is an expansion of the existing partnership between Arkansas Arts Academy and Crystal Bridges Museum of American Art.
The program is in its fifth year with our fourth grade teachers! Through arts integration, MSMM offers students the opportunity to make meaningful connections between the core disciplines (English-Language Arts, History-Social Studies, Math, & Science) and an art form. During the school year Mr. Jones, Director of Arts Integration, meets with the fourth grade team and Museum Educators to develop on-site, arts integration lessons that align subject-area standards with fine arts standards using works of art in the Museum's collection as the point of connection. The results are immersive experiences that take place at an off-site educational environment where the students and teachers use the Museum is an extension of their classroom.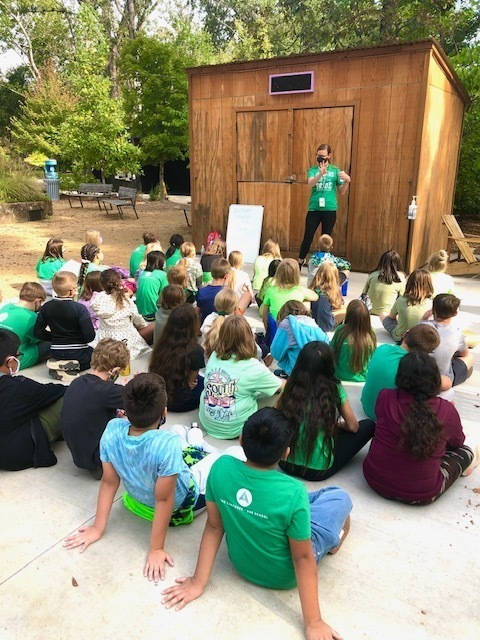 This month's session involves fourth grade math and science classes. Students in Mrs. Gibbon's math classes are mastering multi digit numbers, while in Mrs. Benton's science classes students are learning about plant and animal structures that function to support survival, growth and behavior. The wonderful Museum Educators, Ms. Jennifer and Ms. Joann, introduced two works of art to the students, each with connections to both the math and science standards.
Rashid Johnson's installation called The Bruising: For Jules, The Bird, Jack and Leni. Upon approaching the work of art the students immediately identified the scaffolding of the composition as a multiplication problem. They were informed the dimensions were 20' x 20' x 20' they quickly observed that the structure was tiered and used multiplication to determine the total units the composition contained.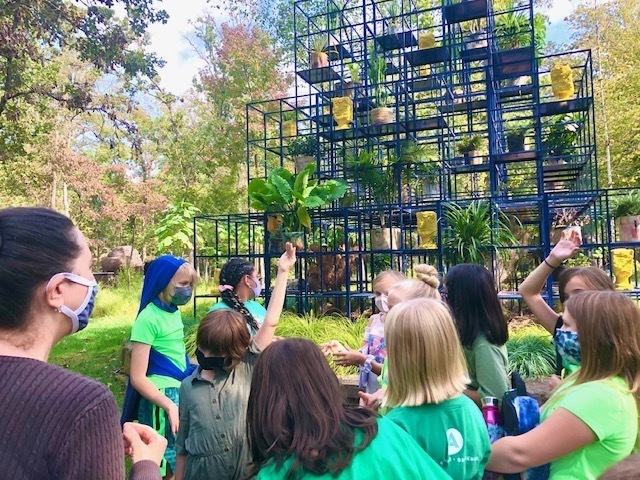 Within these units the artist has placed objects, many of which are plants both native and non-native. Students were easily able to identify the indigenous from introduced as well as learned about growth of so many different species of plants from all over the world.
Students were also introduced to Tony Tasset's work entitled Deer. This enormous sculpture is 3 times the size of a normal white tail deer! (It looks bigger, but the kids did the math). Tasset's attention to anatomy and details of the species allowed students to identify the features that allow deer to survive.
THANK YOU Crystal Bridges Museum for this wonderful opportunity! We look forward to Social Studies and Language Arts next month!
If you would like to know more about the artist and works the students learned about this week visit these links. https://crystalbridges.org/blog/a-plant-tour-of-rashids-johnsons-the-bruising/
https://crystalbridges.org/blog/oh-deer-new-crystal-bridges-acquisition-visits-chicago/