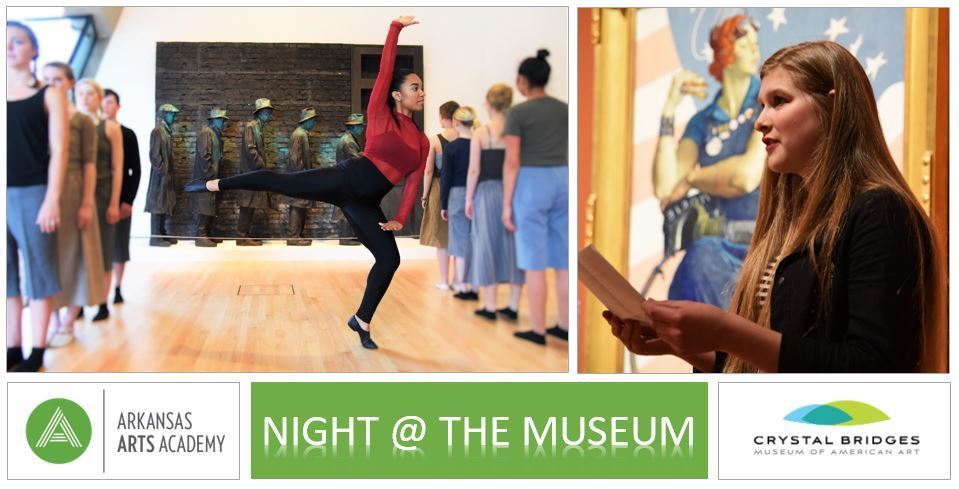 Night @ the Museum is this Thursday!
Alyssa Wilson
Monday, March 25, 2019
Good afternoon Students, Parents, and Teachers!
Here's hoping you had a wonderful and restful spring break.
AAA Night @ the Museum is coming up this Thursday, March 28th, and you don't want to miss it! We have AMAZING performances planned for the evening that connect to the museum's art collection and showcase the talents of our students! Check out the information below and don't forget to save a copy of the map for the event!
AAA Night @ the Museum celebrates our partnership with Crystal Bridges Museum of American Art! AAA students, from elementary to high school, will provide a range of thought-provoking, memorable, awe-inspiring, and delightful performances throughout the museum galleries that families and friends are encouraged to drop in to see and connect with.
Here are the highlights:Elementary orchestra students will offer a GRAND WELCOME to the museum with their performance in the courtyard early in the evening
Fifth and sixth grade students will showcase UKULELE POP! (pop songs with ukulele and vocals) in the museum's Early American galleries.
Fifth and sixth grade students in theatre and choral classes with bring ARTWORKS TO LIFE with mini-productions and performances in the galleries.
Fifth and sixth grade dance students will create a ONE OF A KIND piece inspired by the current special exhibition: Men of Steel, Women of Wonder.
Seventh through twelfth grade dance will offer performances that are designed to DAZZLE in the museum's bridge gallery.
Ninth through twelfth grade choral, creative writing, and dance have collaborated to create a NORTHERN LIGHTS experience under Dale Chihuly's Azure Icicle Chandelier on the bridge.
Select ninth through twelfth grade students in a songwriting class will AMAZE with compositions inspired by works of art in the Early American and 1940s to Now galleries.
The event is from 6:00-8:00 p.m. You don't want to miss this special experience with our students at Crystal Bridges Museum of American Art.
Thank you for your continued support! We look forward to seeing you there!
ASPIRE. ACHIEVE. ADVANCE!