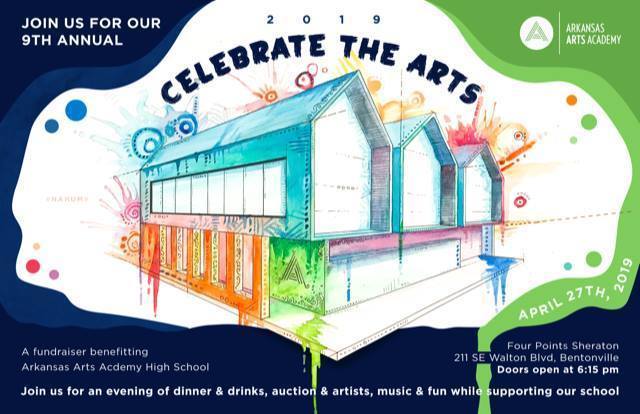 Celebrate the Arts Tickets Available Now!
Heather Wright
Friday, March 15, 2019
Has your child used an easel to paint? Performed in a musical? Had a master class in dance or theatre? Used a school provided guitar? Sung in a competition that required travel? These opportunities and many more are funded by our Parent Teacher Guild through Celebrate the Arts.
Celebrate the Arts is an annual event that simultaneously highlights our fine arts departments while raising funds to allow them to do more. This year the adults only event will be held at the Four Points Sheraton in Bentonville, AR. All members of the AAA community as well as the wider NWA community are welcome and encouraged to attend. As part of your ticket price you'll receive a full dinner including an adult beverage, an individual bidding number to use in our silent auction, and an evenings worth of entertainment concluding with a performance from the Rockhoppers that will have you out of your seat and dancing the night away.
You can now purchase your tickets online using the following link: https://www.artsk12.org/o/high...
We hope to see you there!