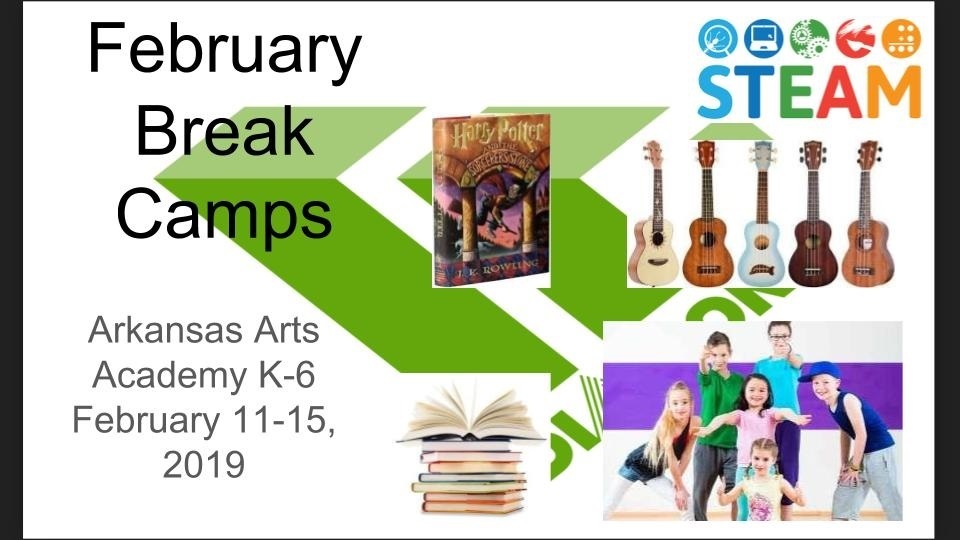 February Camp Deadline is Friday!
Matt Young
Wednesday, February 06, 2019
February Kids' College
Arkansas Arts Academy Families,
Here are the exciting options that we will be offering for your child at our campus February 11-15. To sign up or get more info, please reach out to the contact person. The deadline to sign up is this Friday, February 8.
STEAM Camp
Time: 8-11 AM
Cost: $75 per student
Grades: 2nd-4th Grade Students
Description: Enjoy hands-on science, art projects, and more in this exciting camp experience.
Contact: awillard@artsk12.org
Ukulele Camp
Time: 8-11 AM or 12-3 PM
Cost: $100
Grades: 1st-6th Grade
Description: Students will work on 2-3 pop songs and do a group performance on Friday.
Contact: mshields@artsk12.org
Winter Break Dance Camp
Time: 12:30-3:00
Cost: $75
Grades: K-6th Grade
Description: Come learn different dance moves ranging from jazz to ballet to hip-hop along with doing some choreography.
Contact: mdedner@artsk12.org
Book in a Flash
Time:12:30-4:00
Cost: $50
Grades: 5th-6th
Description: Are you ready to complete an entire book over the break in a fun hands-on way? If yes, this is the camp for you.
Grades: 5th-6th
Contact: lcerna@artsk12.org
Camp Hogwartsd
Time: 1-3 PM
Cost: $100
Grades: 3rd-6th Grade
Description: Experience the world of Harry Potter while doing science, literacy, and critical thinking.
Contact: cday@artsk12.org