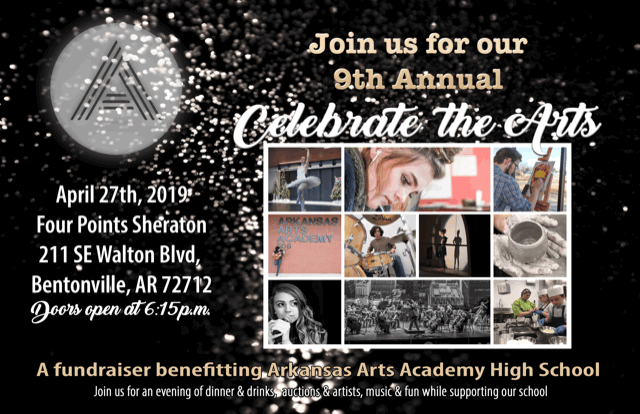 Celebrate the Arts 2019
Heather Wright
Friday, January 18, 2019
The AAA HS Parent Teacher Guild is excited to announce Celebrate the Arts 2019!
Individual tickets will go on sale in mid-February and we will send out a link to purchase remaining seats (first come/first served) at that time.
Saturday, April 27th
Four Points Sheraton
Bentonville, Arkansas
Doors open at 6:15pm with a jazz reception, a taste of culinary arts, and silent auction.
Dinner will be served at 7pm with special announcements. Entertainment will be provided by our AAA students, followed by our first ever Live Arts Auction!
Then our very own Rockhoppers will kick off the after party!
This year we are pleased to offer discounted room rates at the Four Points Sheraton so that you can take the stairs home after your evening of fun!
RESERVE NOW by becoming an Arts Sponsor!
You select the area of the arts that you would like to support and all of the profit from your tax deductible donation goes straight to that arts department at AAA HS!
Your $250 sponsorship puts your name on the program as one of the following supporters:
Curator - fine arts
Playwright - theatrical arts
Songwriter - music performance arts
Conductor - choral
Maestro - orchestra/jazz
Choreographer - dance
Chef - culinary
You will also be recognized at the event and 2 preferred seats will be reserved for you! Please email Chris Gross to reserve your sponsorship and seats!
We also have some sponsorship opportunities for local businesses. If you own a business or know of a business who may be interested or if you would like to make a larger contribution, please let Chris know!! Christina Gross AAA HS PTG President, CTA Sponsorship Co-Chair, cgross1368@gmail.com or 479-751-8964