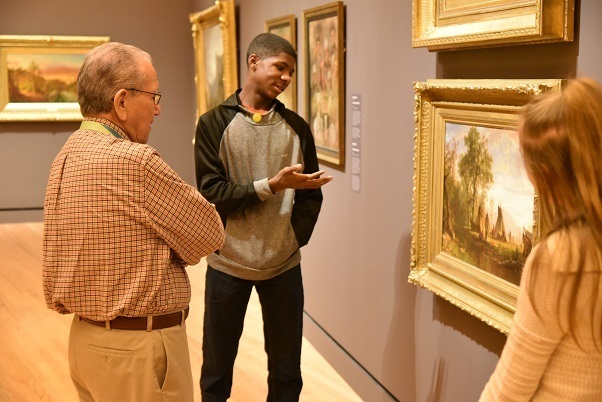 AAA Night @ the Museum
Aaron Jones
Friday, October 19, 2018
Thank you to all that visited Crystal Bridges Museum of American Art and participated in AAA Night @ the Museum event! Students from the elementary, middle and high school levels activated the galleries and shared knowledge and connections they made to works in the collection from their core discipline classes.
Stations included the following: 4th grade offered a wonderful visual narrative of Francis Guy's painting A Winter Scene in Brooklyn; 5th grade science and high school chemistry students discussed the scientific explanation of optical illusions at Gene Davis' work Black Balloon; 8th grade students filled the Early American Gallery revealed how artists depicted "Manifest Destiny" in several of the paintings; creative non-fiction writing high school students shared descriptive portrait essays in the self portrait gallery; high school creative writing students were stationed in the library and demonstrated how they use the Museum's rare books collection as primary resources for their research.
Thank you teachers, students, museum educators and parents for an arts integrated educational event!