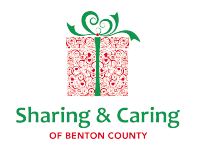 Applications for Sharing and Caring
John Hines
Monday, October 01, 2018
What is Sharing & Caring of Benton County?
Sharing & Caring of Benton County works to brighten the holidays of local children by lending a helping hand to families in need during the holiday season.
The program serves children through the help of sponsors who provide clothing, shoes, toys, a food box, essential household goods and special needs. Each child who is served through our program is shopped for individually.
The generosity of our community helped us sponsor 4,070 children in 2016!! That accounts for over 1,500 families in Benton County. We are looking forward to another great year!
Applications are only accepted in October. Apply for assistance here: