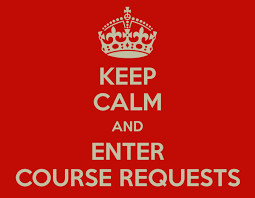 2019-2020 Course Request Instructions
Heather Wright
Friday, May 03, 2019
Please read below for instructions on completing course requests through the Home Access Center:
Login to the eschool Home Access Center using the login credentials provided by Arkansas Arts Academy. If you do not know what these are or have forgotten them, you can contact Pam Lewis (plewis@artsk12.org) on the K-6 campus or Joan Miller (jmiller@artsk12.org) or Nicole Lindley (nlindley@artsk12.org) on the 7-12 campus.
From the Home page, click on the "Classes" button near the top.

Click on the tab labeled "Requests". All courses are listed by department for grades 9-12 and all together for grades 7-8. Future 8th grade parents, the error that caused Algebra I and Pre-AP Physical Science not to show up has been resolved. Those courses can now be requested.

Click on the edit button on the right hand side of the screen to open each department's course offerings. Once the department course listing is open click on each course you would like to select. Click save at the top of the department menu in order to save your selections and close the department window.

Choosing alternate courses: If a course you are selecting is an alternate (not your first choice) you can select "Make Course an Alternate". You will have two options. Option 1 is to make it an alternate to any course selected. Option 2 is to specify which course you would like to replace with that alternate.
Once you have completed all of your course requests, you will be able to see your current requests under the schedule tab of the Home Access Center:
Please use the 2019-2020 Course Catalog to help you select courses. All fees associated with various courses are listed in the catalog, along with prerequisite classes. Students who fail to meet pre-requisites will not be scheduled. Any course requiring an audition can not be requested in the Home Access Center and will be built into the schedule after auditions are complete.
Any course beginning with "DC" is a Digital Curriculum course offered through APSRC. Any course beginning with "CC" is a Concurrent Credit course offered through NWACC. Both of these courses have fees attached in order to be able to take them. For the DC courses, any student that qualifies for free or reduced lunch can have the course fee paid for in part or in full by the school.
If you have any questions or concerns, you are welcome to email me. Course requests are due by May 22nd at 6 pm. Any course requests can be modified up to that point as well. We will be hosting extended hours in the computer lab to help parents and students complete this. This week those hours are:
May 7th 3:30 - 6:30 pm
May 8th 4:30 - 6:30 pm
May 10th 4:30 - 6:30 pm
May 11th 3:00 - 5:00 pm
Thank you and happy requesting!
Heather Wright